Note: The Thursday, July 4, City of Chelsea curbside pick up will be moved to Friday, July 5, 2019. Thank you for recycling!
[READ MORE]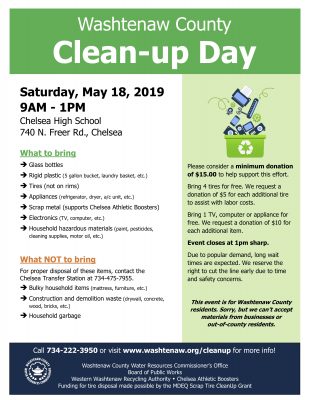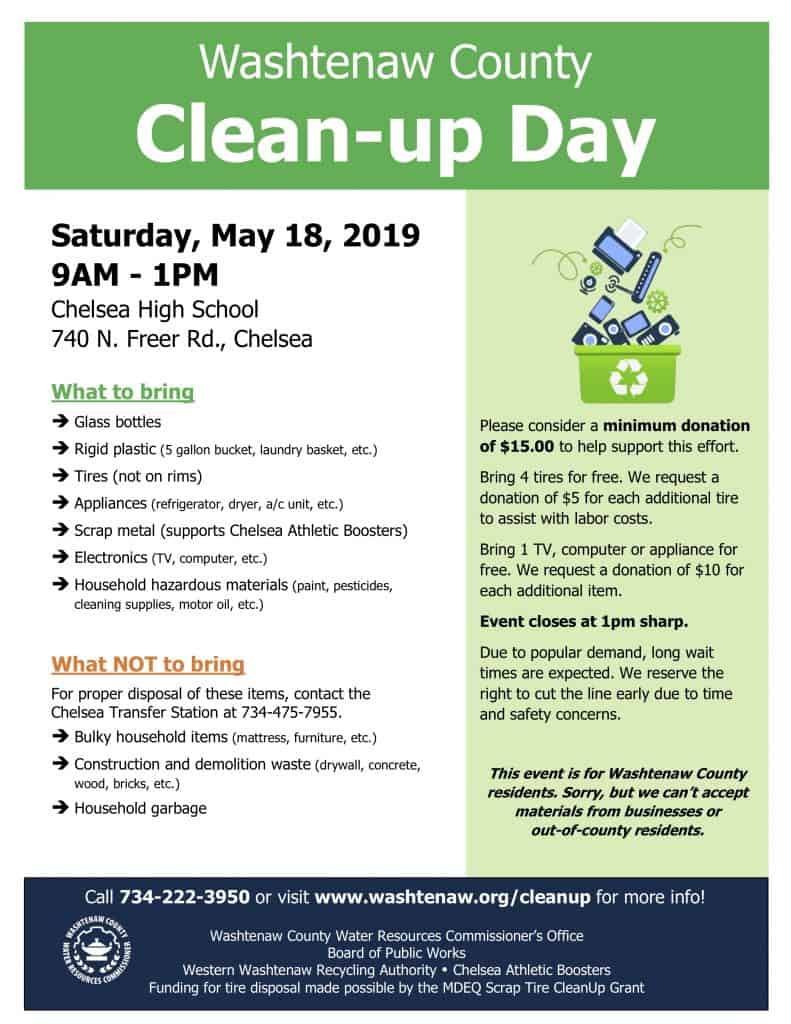 Save the Date! This year's COUNTY SPRING CLEAN UP DAY is Saturday, May 18, 9am to 1pm, at Chelsea High School. As soon as we get a flier, we'll get it uploaded! Dispose of many unwanted household items & chemicals in a safe and sustainable manner. The Washtenaw County Water Resources Commissioner's Office and Board…
[READ MORE]
Featured Videos from WWRA
News Archive
Please click on the links below to read articles concerning WWRA and recycling which have appeared in the Chelsea Update.
2017
Aug. 6: Marc Williams - Manager of Materials!
May 21: Spring Clean Up Day A Success
2016
November 7th: Western Washtenaw Recycling curbside pickup day Thanksgiving week
April 30: E-waste recycling event on May 7th in Ann Arbor
April 3, 2016: Reggie the Recycling Racoon is back; Frank Hammer steps down
February 15, 2016: Feeney named new CAFA rep, Pacheco new WWRA rep
January 10, 2016: Reggie regretfully says 'goodbye and good luck' to Phil Bolyard
2015
November 15, 2015: Reggie the Recycling Racoon goes through the Looking Glass for glass
November 8, 2015: Reggie the Recycling Raccoon says: 'we are breaking glass' at WWRA
September 20, 2015: Reggie the Recycling Raccoon says: WWRA responds to the down-cycle in the recycling industry
August 16, 2015: Reggie the Recycling Racoon says: Washtenaw County may be joining the movement to ban plastic shopping bags
June 21, 2015: Reggie the Recycling Racoon re-lert: all hard plastics can now be recycled
June 7, 2015: Reggie the Recycling Racoon says: reuse or recycle your plant containers and tools
May 31, 2015: Reggie the Recycling Raccoon says: Ahh…Summer is here at last
May 24, 2015: Reggie the Recycling Raccoon says: Let's talk more about more paper and cardboard recycling
May 6, 2015: Reggie the Recycling Raccoon seen at the opening day of the Saturday Chelsea Farmers Market
April 26, 2015: Reggie sez check out these photos of my debut at the Chelsea Spring Expo
April 12, 2015: Reggie, the Recycling Raccoon says: 'I had a blast at Klager Elementary School at Math and Science Night'
April 5, 2015: Reggie the (Rabbit-Ear) Recycling Racoon says Happy Easter readers
March 29, 2015: Reggie the Recycling Raccoon says: Recycle those papers and magazines, don't waste them
March 22, 2015: Reggie Raccoon Says: Spring is arriving, it's time for lots of recycling activity
March 15, 2015: Reggie the Recycling Raccoon says: Recycling is a product-driven market; you have the power to change the market
March 8, 2015: Reggie the Recycling Raccoon says: 'Let's answer reader questions and comments'
March 1, 2015: Reggie the Recycling Raccoon asks: 'So what do we do with other plastic materials?'
Feb. 22, 2015: Reggie the Recycling Raccoon asks: 'What's up with the other plastics?'
Feb. 15, 2015: Reggie the Recycling Raccoon says: 'Styrofoam is good for packing, worthless for recycling'
Feb. 8, 2015: Reggie the Recycling Raccoon says 'There are other uses for plastic bags'
Feb. 1, 2015: Reggie the Recycling Raccoon says 'Plastic bags are trash and are not recyclable'
Jan. 25, 2015: Reggie the Recycling Raccoon's Royal Review: Trash Collection and Recycling are Two Very Different Animals
Jan. 18, 2015: Trash has a $50,000 effect on WWRA's budget
2014
Dec. 28, 2014: Commingled recycling does not include boots or food scraps, dog poop or soiled diapers