Meeting Schedule and Locations
Generally speaking, we meet the last Wednesday of each month (except November) at 7 pm. April through September meetings are held at the WWRA office at the Werkner Road facility. October, December, and January through March meetings are held in the City of Chelsea Chamber, 305 S. Main Street.
2021  Meeting Dates
Feb 24
Mar 24
April 28
Topic: WWRA's Monthly Board Meeting
Time: Apr 28, 2021 07:00 PM Eastern Time (US and Canada)

Join Zoom Meeting
https://us02web.zoom.us/j/6854368829

Meeting ID: 685 436 8829

Meeting ID: 685 436 8829
Find your local number: https://us02web.zoom.us/u/k1c8ZkUif
May 26
June 23
Aug 25
Sept 22
Oct 27
Dec 8
Jan 12, 2022
Here are the meeting dates and locations for 2020.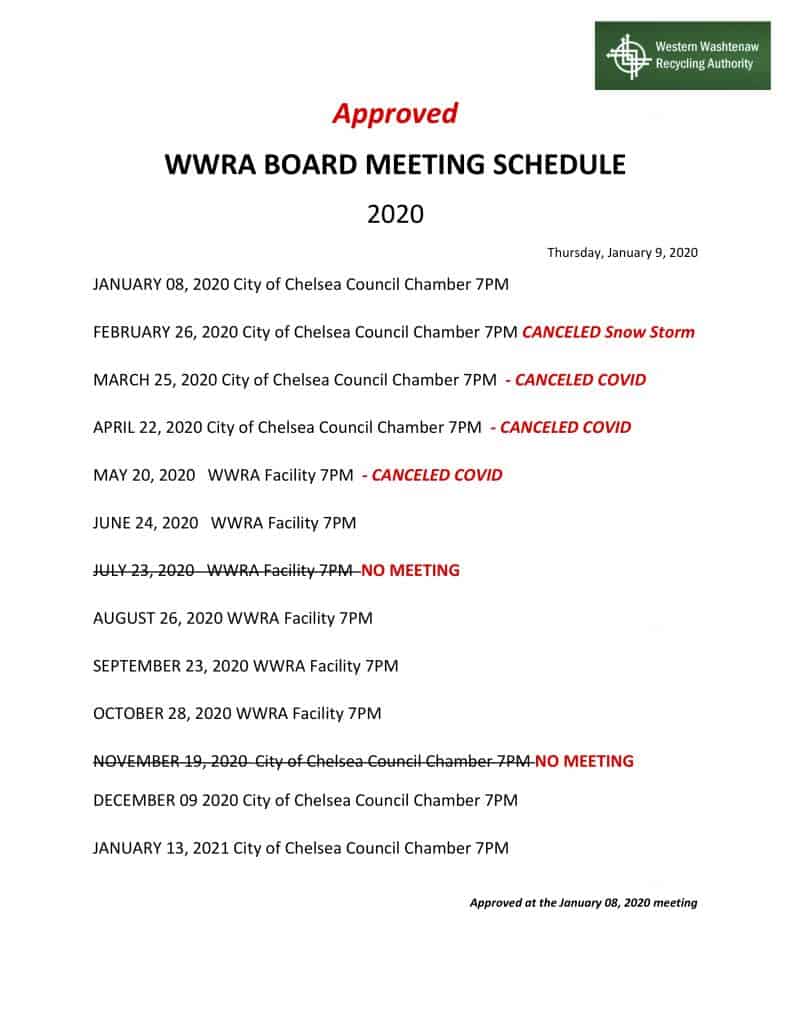 January 9, 2019 – City of Chelsea Offices
February 27, 2019 – City of Chelsea Offices
March 27, 2019 – City of Chelsea Offices
April 24, 2019 – City of Chelsea Offices
May 22, 2019 – WWRA Facility
June 26, 2019 – WWRA Facility
August 28, 2019 – WWRA Facility
Agenda
August 2019 Minutes
September 25, 2019 – WWRA Facility
Agenda
September 2019 Minutes
October 23, 2019 – WWRA Facility
Agenda
October 2019 Minutes
December 2019 TBA – City of Chelsea Offices
Agenda
December 2019 Minutes
January 8, 2020 – City of Chelsea Offices
June 24, 2020 – WWRA Facility
August 26, 2020 – WWRA Facility
September 23, 2020 – WWRA Facility